CHICS Housing Management Solutions
CHICS Computer Systems offer all the advantages of the Windows environment, integrating fully with other computer applications.
CHICS Modular Solutions include:
Rent accounting
Property maintenance
Lettings
Tenant management
Our modular system allows you to purchase only the modules you need
CHICS X
CHICS X (ten) provides customers with a user friendly and flexible system to suit every user's specifications.
CHICS X incorporates all the functionality of our well established CHICS 9 system, along with many extra features to make use of new web based technologies.
Features:
Tenants, Leaseholders, Garages, formers tenants, etc. are all immediately accessible and cross referenced
Different databases can be combined on the same account lists and yet can be separated and filtered for reporting
Optional transaction editing directly on account screen
Extensive filters available on the account, batch and list screens
Batch Entries and Importing from AllPay and similar payment services
Customisable viewing and/or editing permissions can be set for users restricting their access
Advanced Custom Report Designer
Control Account with breakdowns
Tenants and Accounts Issues and Reminders
Maintenance and Repairs

Works Orders
Contractors database
Contractor payments
Customisable Questionnaire for tenant Responses

More features being added as per consultation with our current testing user base
The interface has been designed to give consistent presentation of different accounts you may wish to use, resembling more conventional nominal accounts packages. You will also be able to configure the screen to best suit your own areas of operation and colour schemes.
Comprehensive manuals, tutorials and on-screen help are included with all our software packages. Costs are graded to reflect the size of your organization. We want even the smallest housing organisations to be able to afford the benefit of our services. You'll find our prices very competitive.
Stand Alone and Multi-user support
As with all our products CHICS X operates in a Stand Alone PC as well as in Multi-User computer systems across local and wide area networks. It can also operate remotely via Terminal Services.
Prices
Unlike our competitors, we are proud of our pricing openness and transparency. CLICK FOR OUR PRICE SHEET
Download Free Demo
You can download a free demonstration version of CHICS X and test the system. CHICS X comes with a demo data file but if you wish to import your own 'live' data to give yourself a better idea of how the system will work in practice please contact us.
We will be very pleased hear from you on any aspects of your CHICS Xperience.
---
CHICS 9
CHICS 9 is our older widely established fully featured package for Housing Management with a strong user base.
CHICS 9 was developed using Microsoft Access which integrates tightly with other Windows Office applications.
CHICS 9 is no longer under development. If you are an existing CHICS 9 user and are intending to upgrade to CHICS X please click below to view our upgrade guide.
CHICS X Screenshots
Please click on the thumbnails to open in full.
Free onsite demonstration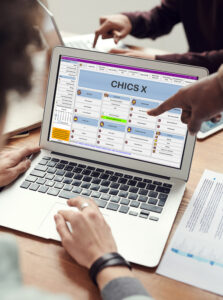 We will demonstrate our systems in your workplace so you can see how we can help you manage your organisation.
All our software can be purchased on a three-month trial basis for only £100 per module including a half a day familiarisation session.
Please contact us to arrange a free on-site demonstration.