CHICS Downloads
To install a CHICS X trial version download the following:
CLICK HERE TO DOWNLOAD CHICSX-DemoInstall.zip
CLICK HERE TO DOWNLOAD CHICSX-CXSetup.exe
(If clicking the above link gets blocked by your browser right click on the link and select "Save Link As" instead)
For a list of CHICS X updates you can follow this RSS feed--
To Launch
Once the download is complete, unpack the zip file and run Setup.exe
Follow the prompts and accept the defaults.
When you run CHICS X for the first time you will be asked for a data file folder to connect to. The default folder is C:\Chics X data. Alternatively if you didn't use the default settings choose the folder you specified during the installation.
There is a limited license for this test data which enables you to use CHICS X, but the following restrictions apply:

Only 20 properties are allowed to be active.
Custom reports feature is not available.
No program updates are available.
If you would like a full trial then email Colin or Mark for a license. A small fee is payable for non-CHICS Users for a trial-which will go towards your first year if you take up the system. Current CHICS Users – please contact us for help in converting your data.
---
Year End Downloads for our current users:
Please log on to our USER GROUP section page then select DOWNLOADS/MANUALS on the Menu box on the right hand side for downloads and Year End advice.
CHICS 9
If you are an existing CHICS 9 user and are intending to upgrade to CHICS X please click below to view our upgrade guide.
Free onsite demonstration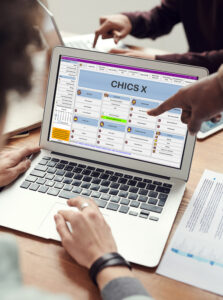 We can demonstrate our systems in your workplace, or via conference online, and discuss how it can meet your housing management needs.
All our software can be purchased on a three-month trial basis for only £100 per module including a half a day familiarisation session.
Please contact us to arrange a free on-site demonstration.