CHICS Cloud Services
CHICS can now offer our CX package in the 'Cloud' - Software as a Service (SaaS).
Your computer uses Remote Desktop Protocol (RDP) to establish a Remote Desktop Connection with our Cloud Server. This Remote Desktop Connection program is already on your computer, and is easy to set up and run.
Once you are logged on to our server, CHICS, and whatever other programs you want to put there, run just as usual. If you want Cloud CHICS to work with email, there will need to be one installed alongside.
You can run some programs on your desktop or laptop, and some in the Cloud.
Your printer will work just as usual, and you can copy & paste between the cloud and your computer.
Is it for you?
A lot of organisations are paying heavily for computer support. All you need for this is a basic computer and internet access.
Remote access to CHICS will enable you to manage your properties from anywhere in the world.
Try it out
We have a trial system that you can have a look at. At present you'll have to contact us to test it.
Reliability
We have been running a number of clients on Cloud for over two years without any 'down' time, and consider this a good indicator of reliability. We would expect that in the very unlikely event of an interruption it would only last a few hours at most.
Costs
We continuously test out different options and configurations to find the best solution for our clients, so the costs below are indicative rather than definitive.
Initial Setup Costs £100
CX and email ready to go, and Open Office option.
We will help you get your Printer working.
Installation of other (non-CHICS) software may be extra.
Running costs - dependent on provider and service
From per month - £30 standing + £5 per user
Extra charges for service additions such as backups
If you install MS Office you will have to pay their licence on top.
Support/Help
There will be a 'per incident' support charge for help not associated with a service problem. For example if you get a new printer and have problems getting it to work, assistance with this will be charged.
Our latest package...
CHICS X is our new fully featured package for Housing Management.
Whether you run a 6 bed hostel or 20,000 units CHICS X will cater for all your housing management needs.
CHICS X - Modular Solutions
Free onsite demonstration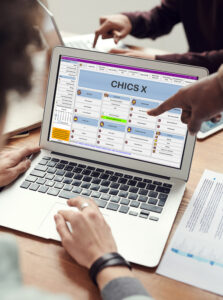 We can demonstrate our systems in your workplace, or via conference online, and discuss how it can meet your housing management needs.
All our software can be purchased on a three-month trial basis for only £100 per module including a half a day familiarisation session.
Please contact us to arrange a free on-site demonstration.