How to contact us
Please use the form below to contact us to arrange a demonstration and on-site visit or training, or if you just want to discuss your computing needs on an informal basis or for further general information about CHICS.
All Enquiries, Support, Consultancy
Colin Boyd,
14 Windsor Mead,
Sidford, Sidmouth,
Devon EX10 9SJ, England
Our latest package...
CHICS X is our new fully featured package for Housing Management.
Whether you run a 6 bed hostel or 20,000 units CHICS X will cater for all your housing management needs.
CHICS X - Modular Solutions
Free onsite demonstration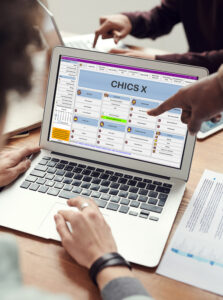 We can demonstrate our systems in your workplace, or via conference online, and discuss how it can meet your housing management needs.
All our software can be purchased on a three-month trial basis for only £100 per module including a half a day familiarisation session.
Please contact us to arrange a free on-site demonstration.