Welcome to CHICS
We have been providing housing management software solutions for over 20 years. This wealth of experience ensures that the CHICS package has the flexibility to fit the way your organisation works.
CHICS X offers comprehensive housing management solutions that include:
Properties database
People database
Rent accounting
Arrears monitoring
Service charges
Responsive maintenance
Service contracts
Extensive reporting
Regular user group events with workshops,
Online user group access
Continuous development and improving of our products based on customer feedback
Excellent value for money
Our housing management software will enable your organisation to operate more efficiently and effectively.
Please contact us to arrange a free on-site demonstration.
---
For job opportunities see our User Group section.
Our latest package...
CHICS X is our new fully featured package for Housing Management.
Whether you run a 6 bed hostel or 20,000 units CHICS X will cater for all your housing management needs.
CHICS X - Modular Solutions
Free onsite demonstration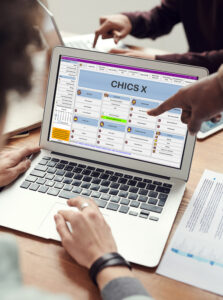 We can demonstrate our systems in your workplace, or via conference online, and discuss how it can meet your housing management needs.
All our software can be purchased on a three-month trial basis for only £100 per module including a half a day familiarisation session.
Please contact us to arrange a free on-site demonstration.